Oak - The King of Trees.
Oak has traditionally been a symbol of strength and power. In the Scandinavian mythology, oak was dedicated to the God of Thunder, Thor. No wonder the oak leaf has become a symbol of victory and it is still used in wreaths and military honors.
Oak wood is strong, hard and densely grained, making it imposing and durable. Oak's robust appearance and, at best, over thousand-year lifespan have earned the tree the status as the king of trees.
Movement - Uncompromising Precision.
The heart of the watch - Swiss ETA 902.101 movement. The traditions of ETA date back to 1793. Thanks to centuries of experience and ambitious product development, the precision and quality of ETA movements are in the top class. The movement contains 4 synthetic jewels to minimize friction. The battery lasts longer, and the watch always runs accurately.
The body of the movement is made of brass instead of plastic, making the structure sturdy. The battery is developed in close cooperation with the Swiss watch industry. The Renata battery does not contain mercury, making it also an environmentally friendly choice. The battery lasts for up to 36 months.
This is for you who demand the best.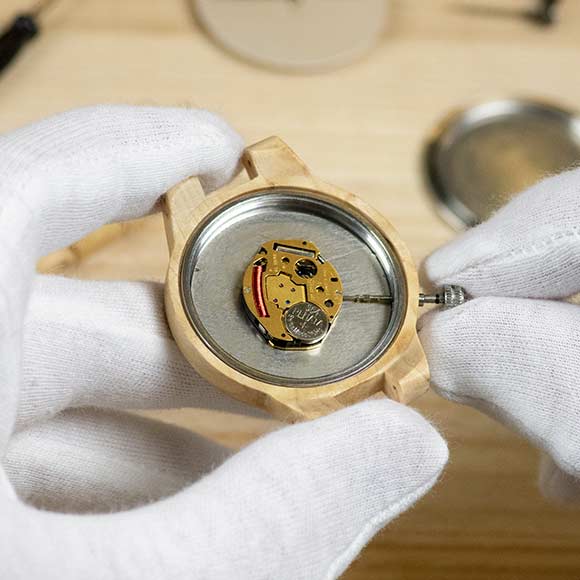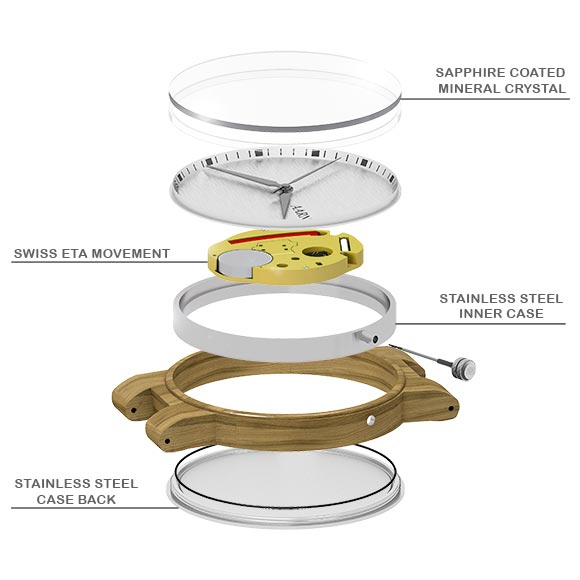 Innovative Structure.
Enjoy your watch in all situations. The wooden shell conceals a precisely worked stainless steel case. The rotating back cover seals the structure and protects the movement from dust and water. You can carry out your daily chores with no worries.
The sapphire-coated mineral crystal glass is attached directly to the steel body. The sapphire coating prevents the glass from scratches.
Natural Elegance and High-Class Quality.
Aarni Wooden Watch is the perfect choice for everyone appreciating elegant style. We make our watches from only carefully tested wood materials, which use does not harm the environment. Aarni wooden watch breathes and is a delight to wear. The durable materials ensure that you can enjoy the watch in everyday use.
Just as the wood bends, Aarni Watch also flexes for a wide range of uses: you can use your unique watch at fancy parties, at the office and in the moment of unwind. The intriguing details of the Aarni Watch turn heads, telling a unique tale about its user. Which one is your pick – pitch black or fresh pale, delicate or brave?
What our customers say about us
Order XO – Oak today. We offer a 100% Satisfaction Guarantee for our products. If you are not completely satisfied with the product, you can return it and we will refund your hard-earned money back. 
Free Shipping
100-Day Money-Back Guarantee
3-Year Warranty
SEE ALSO