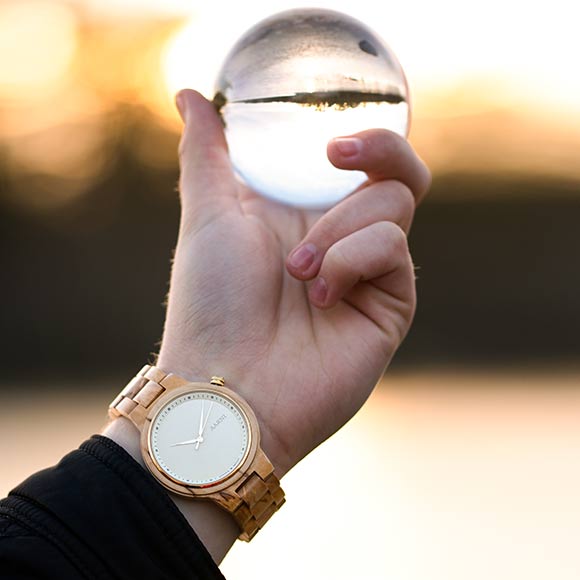 Curly Birch - Wooden Marble.
Revered as the wooden marble of the Nordics, curly birch truly symbolizes the value of Nordic nature. Curly birch is the only wood species to trade in kilograms, not in cubic meters. Its value can be up to 100-fold compared to other Nordic wood species. The Central European aristocracy and the Russian Tsar too, have appreciated this valuable Finnish wood in history: Alexander I is known to have donated a complete set of furniture to Napoleon, made entirely of curly birch.
The curling is a naturally occurring mutation of the silver birch. The beautiful curly pattern makes every piece of curly birch is unique.
Movement - Uncompromising Precision.
Swiss Ronda movement serves as the heart of the watch. The family-owned company has grown to be the one of the leading movement manufacturers in the world. Thanks to vast experience and ambitious product development, the precision and quality of Ronda movements are in the top class.
The movement contains 5 synthetic jewels to minimize friction. The battery lasts longer, and the watch always runs accurately.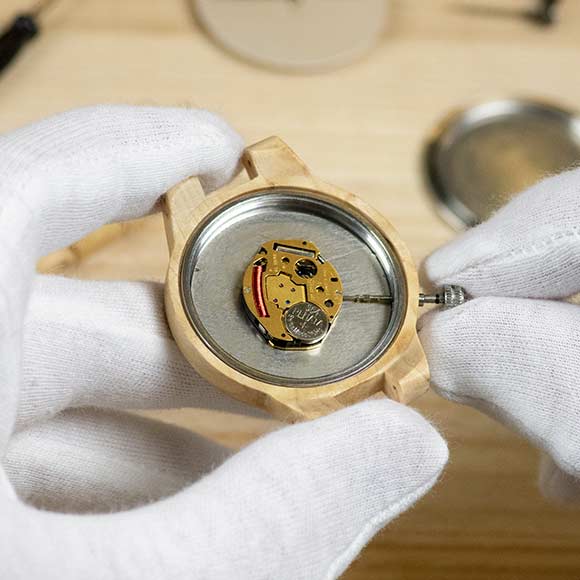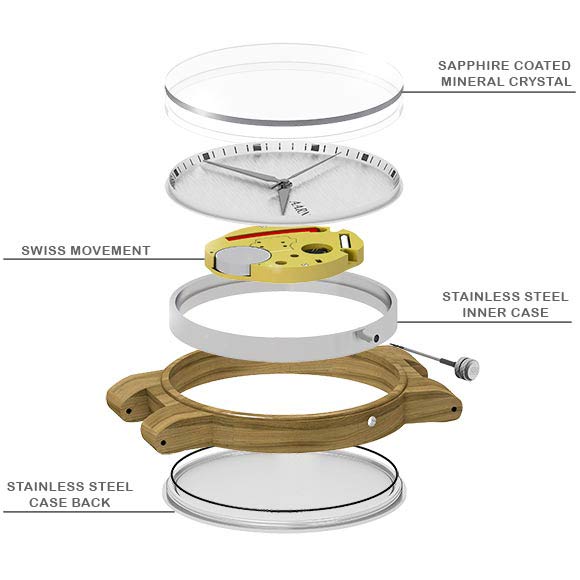 Innovative Structure.
Enjoy your watch in all situations. The wooden shell conceals a precisely worked stainless steel case. The rotating back cover seals the structure and protects the movement from dust and water. You can carry out your daily chores with no worries.
The sapphire-coated mineral crystal glass is attached directly to the steel body. The sapphire coating makes the glass virtually scratch-free, while the mineral crystal glass ensures great shockproofing. A similar glass is also used in diving watches due to its excellent properties.
Natural Elegance and High-Class Quality.
Aarni Wooden Watch is the perfect choice for everyone appreciating elegant style. We make our watches from only carefully tested wood materials, which use does not harm the environment. Aarni wooden watch breathes and is a delight to wear. The durable materials ensure that you can enjoy the watch in everyday use.
Just as the wood bends, Aarni Watch also flexes for a wide range of uses: you can use your unique watch at fancy parties, at the office and in the moment of unwind. The intriguing details of the Aarni Watch turn heads, telling a unique tale about its user. Which one is your pick – pitch black or fresh pale, delicate or brave?
What our customers say about us
Order the unique XO – Curly Birch today. We offer a 100% Satisfaction Guarantee for our products. If you are not completely satisfied with the product, you can return it and we will refund your hard-earned money back. 
Free Shipping
100-Day Money-Back Guarantee
3-Year Warranty
YOU MAY ALSO LIKE